Norweco Residential Treatment System Distributor
Catoctin Environmental is the exclusive distributor of Norweco residential treatment systems in Loudoun County, Virginia. Residential treatment systems are designed for domestic wastewater flows ranging from 500 to 1,500 gallons per day.
The Norweco residential product line includes its Singulair systems – Singulair Green and Singulair TNT – which are certified to NSF Standard 40. Norweco residential treatment systems are the trouble-free answer to domestic wastewater disposal and ensure a safe, sanitary home environment.
Singulair® Green®
The Singulair Green aerobic treatment system incorporates Norweco's advanced aerobic treatment process, proven in hundreds of thousand of installations for decades, into a durable, watertight polyethylene tank. It is ideal for new or retrofit applications and can be installed easily in the most difficult jobsite with just a backhoe. Incorporating patent-pending support ribs and inherently strong arch shape, the durable Singulair Green tank will provide decades of reliable performance. Single tank convenience; the Singulair Green contains pretreatment, aeration, clarification, filtration, flow equalization, optional disinfection and dechlorination all in one compact treatment unit. The need for additional treatment system tankage is eliminated saving time and money. Homeowners now have unlimited site options for their dream home.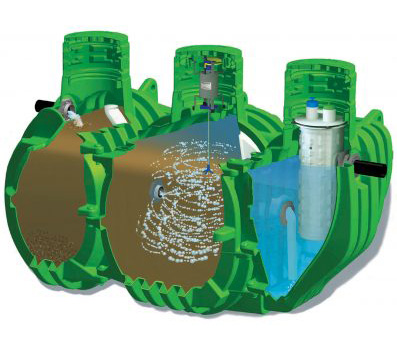 Designed for domestic wastewater flows up to 600 gallons per day, the Singulair Green treatment unit is certified to NSF Standard 40 and our Bio-Kinetic system is certified as a chlorine disinfection device to NSF Standard 46. Underwriters Laboratories (UL) and the Canadian Standards Association (CSA) have certified and/or listed all electro-mechanical equipment and components. These listings provide the highest safety, reliability and quality.
Singulair® TNT®
The Singulair Model TNT is the best and most cost-effective wastewater treatment system for domestic nutrient reduction. Excessive nitrogen compounds in wastewater are an environmental concern in many parts of the country. By incorporating the Singulair TNT into building plans, homeowners can participate in minimizing excessive nitrogen released through wastewater treatment systems.
Certified performance data from NSF International verifies that the average effluent produced by the TNT system contains 7 mg/L Nitrate, 12 mg/L Total Nitrogen, 4 mg/L CBOD5 and 9 mg/L Total Suspended Solids. The Singulair Model TNT reduces Total Nitrogen by more than 68%.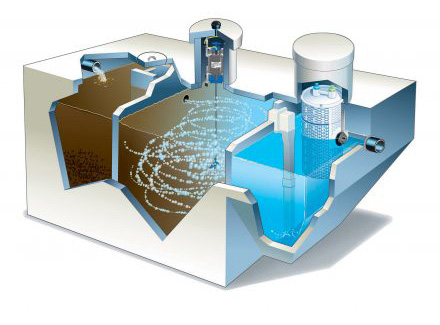 Featuring flow equalization, effluent filtration and the lowest electrical usage in the industry, this advanced treatment unit biologically oxidizes nitrogen compounds to accomplish nitrification and denitrification. Designed for easy installation, operation and maintenance, the Model TNT system minimizes effluent nitrogen concentrations reliably and economically. The Singulair Model TNT system delivers state-of-the-art performance without requiring effluent recirculation or the addition of dangerous chemicals. All treatment is efficiently accomplished within the precast concrete Singulair tank.
Affordable and reliable treatment that can be easily installed makes the Singulair Model TNT the best choice for nutrient reduction in onsite treatment and disposal systems for compliance with the most stringent effluent standards. The Singulair Model TNT is available only through local, licensed, factory trained Norweco distributors, and leads the way in innovative onsite treatment technology.